Are you wondering about how exotic it is gonna look if you could grow two amazing flowers like passion flower and clematis together? Undoubtedly these two flowers together would change the outlook of your garden drastically.
But the biggest question is, can you grow passion flower and clematis together? 
Well, the answer is yes. You can easily grow them together as they almost require the same kind of soil, weather condition, humidity, and sunlight. Other than that, these two flowers don't cause any harm while coexisting. Just you need to take care of the white flies and the worms that may hamper both plants. 
I know you are looking for the details on this. To know more, follow along.
Can Passionflower and Clematis be Grown Together?
Yes, passionflower can be grown with clematis together. If you have a wider place, then you don't even need to worry about trimming the plants also. 
The growth environment for both flowers is quite similar so it is not that difficult to grow them together.
Soil Type:
For passionflower, the soil type needs to be dry but well-moist. In a place where there is a chance of clogging water, passionflower can't be grown well. You need to water deeply right after planting. The PH level of the soil should be neutral to acidic within the range of 6.1 to 7.5 for this flower. 
Applying organic fertilizer always works great for this flower.
On the other hand, Clematis is quite flexible in terms of soil as it can be grown in any kind of soil. But then a well-moist soil type is ideal for clematis. A very important point here is the place should have a proper drainage system. Other than that, the PH level should be neutral within the range of 6.1 to 7.0. 
Fertilize the soil well with compost fertilizer for better results. 
Weather:
Both passionflower and clematis are planted during spring or late summer. You can also plant a clematis in late autumn. However, both of these plants need full sun to partial shade. At least 4-6 hours of medium-heat of daylight is enough for these. 
Water & Humidity:
Both plants need deep watering right after planting. But there can't be any water clogging thor soil. 
During the growing season, watering once or twice a week is enough for both of these. But if the weather is too hot, then you might water regularly. 
Fertilizer:
Both passionflower and clematis grow very well in the presence of compost and organic fertilizer. The fertilizer should contain an even amount of nitrogen, phosphorus, and potassium. 
However, if you want to replace clematis with passion flowers, you can follow this Replacing A Clematis With A Passion Flower.
Processes of Growing Passion Flower and Clematis Together
Here is the process of growing passion flower and clematis together-
Firstly, plant a hole twice or thrice the width of the seedling and a few inches deeper. 

Secondly, for ensuring enough cooling, the crown should be 3-4 inches below the surface.

Thirdly, when you are done placing two types of seeds, water the soil thoroughly and mulch to keep the root weed free. 

Finally, place the climbing structure if you are using one.
If everything goes perfectly, you would be able to see flowers in both plants from April to May if you planted them in autumn. And every winter, make sure you cut back the old growth of passionflower carefully, saving the clematis. 
Growing Passion Flower
Passionflower is a familiar climbing vine that grows white and purple flowers. This flower is famous for its calming effect as it promotes sound sleep and is traditionally used for treating/lessening anxiety, insomnia, and stress. But some varieties of blue passionflower's unripe fruits and leaves contain cyanogenic glycosides that can give nauseous and vomiting feeling to both humans and animals. 
However, since the poisonous part is bitter in taster and these are not consumed usually, it is not that risky.  
Varieties:
There can be hundreds of varieties of passion flowers. But these varieties mostly differ in color and appearance. Among all the existing varieties, these are the widely cultivated varieties of passion flower-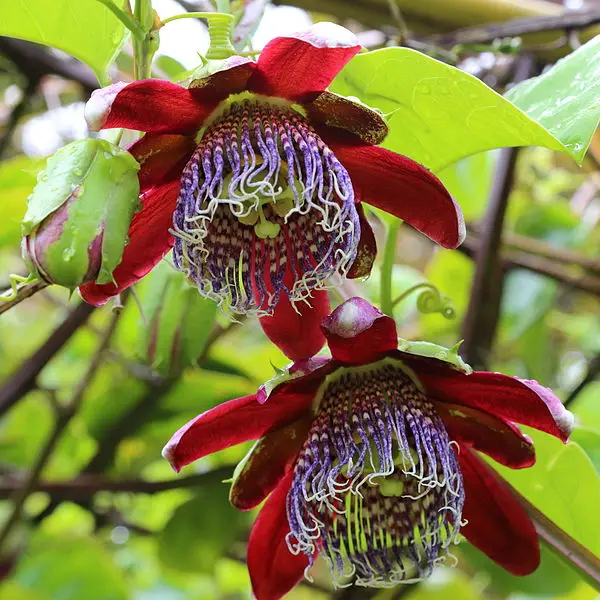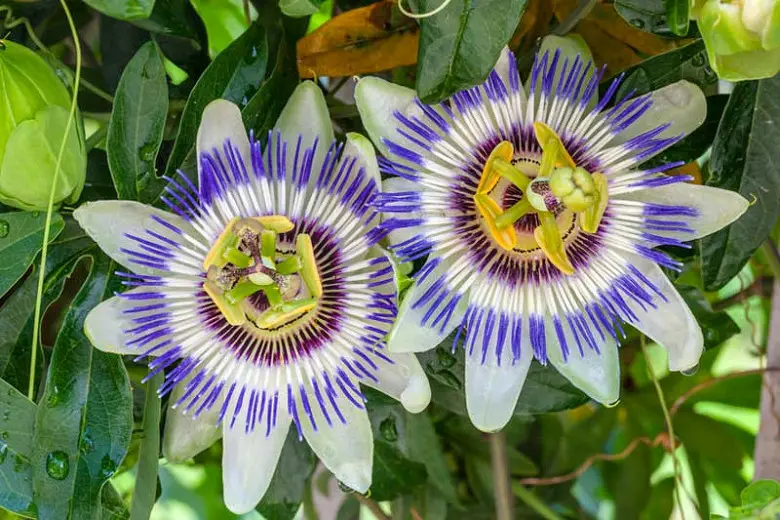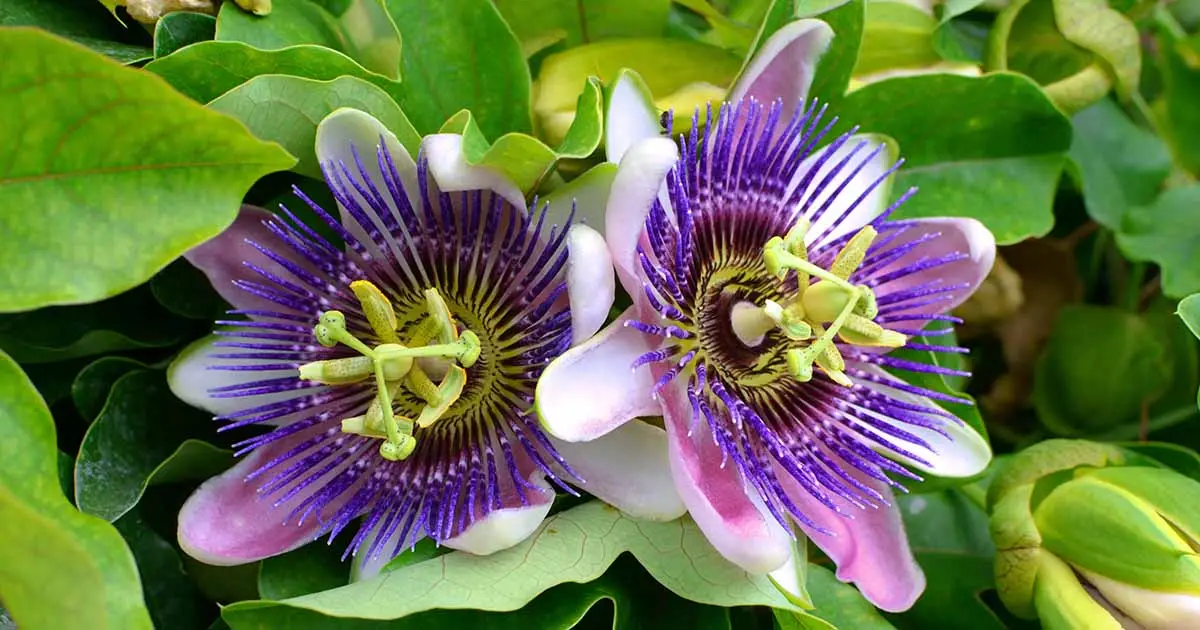 Growth Environment:
Passionflower is quite flexible in terms of its growing environment. You can grow this flower even in very cold weather. You will also notice vigorous growth of some varieties in warmer climates. 
Usually, passion flowers are trained on the fence or vertical structures. You can also grow them in pots as an indoor plant during winter or against a shelter like garden walls for saving them in harsh weather. You should always maintain the soil quality for this flower to grow well.
Typically the sunlight for this flower should be full sun to partial shade on well-drained soil with rich moisture. Though the PH level of the soil is not the concern you should keep it neutral to acidic. Applying compost is really helpful for this flower. 
Passionflower is fond of warmer weather so try to provide 6-10 hours of sunlight in a day. The best planted season should be spring or fall. And right after planting, if required deep watering. Overall this plant is a low-maintenance one that is really eye catchy while blooming. 
Growing Clematis
"Queen of the vines", is another name for clematis which is well known for its large flowering. It has purple, star-shaped flowers that catch everyone's eyes. Here are all the details regarding the variety, growing environment, and the caring process of clematis. 
Varieties:
Clematis has more than 300 species with hundreds of hybrids. Most of these flowers are available in cool shades like purple or pink with a hint of white. Other than that they are also found in blue, magenta, yellow, or white in color. Some of them look like bells, tubes, tulips, open bells, and a few more. 
Growth Environment:
Clematis grows the best in full sun under 6 hours of daylight on a daily basis. The suitable timing for some species is mid to late summer and the others bloom in spring. But some sensitive roots cannot take this heat so it is necessary to keep the plant root cool and moist with the ground covered. 
The soil must be loose enough with a well-drainage system and neutral PH. You should always plant them in cool spring which works the best compared to the fall planting. During the fall time, applying fertilizer with liquid seaweed or fish emulsion can be a game changer. 
Do not forget to apply compost during the springtime and prune the dead wood back. Plants that are older, should not contain any stems that are 4 years old or older than that. 
The growth Environment sometimes causes clematis to only shows flowers at the top of the tree as well.
Disadvantages of Growing  Passion Flower and Clematis Together
The only problem one might face is in the bottom part of the clematis plant where the growth of the leaves is high. Heavy growth of clematis leaves can cause white fly infestation. Just trim out the affected leaves or sprinkle some water to wet them. 
Make sure enough air is passing through the affected place. As wet leaves can cause mildew. To avoid such circumstances, let the place dry out and cold before it is night. 
Sometimes people try to plant seeds on toilet paper rolls. Before doing that make sure you know which plants are suitable for it.
Frequently Asked Questions (FAQs):
What grows the best with passion flowers?
The best companion of a passion flower is a butterfly attracting plants. Some of these are Joe Pye weed, butterfly weed, pentas, butterfly bush, and so on. Other than these, passion flowers can easily pair with any other flowers unless they conflict too much with nature.    
What grows the best with clematis?
Wisteria is the best companion of clematis. They can easily share the same soil, water, and nutrients and can coexist so well. In fact, the beautiful outlook of them growing together would amaze your mind. 
Can I grow two types of clematis together?
You can easily grow two or more types and colors of clematis together without any difficulties. No matter in which place you grow these, all you need to do is to take care of them regularly. Also, ensure you grow them against support so that the wind can't cause any harm. 
Final Words
We hope you could find every detail you need to know regarding whether can you grow passion flowers and clematis together. After reading this article you don't need to worry about anything else. 
Just be careful about any kind of worm or insects that might affect your plant beforehand. That's all for now.
Happy Gardening!