If you ever spend a week or two in a flower garden, you'll gain a different perspective on how climbing flower plants may improve a garden's appearance. 
Everywhere you look, there are roses as well as climbing hydrangeas; clematis threads the shrubs and trees; arches, honeysuckle, and ivies drape pergolas.
Similarly, there are morning glories, sweet peas, and thunbergia weave obelisks and tripods; jasmine, passion vines, Mandeville, and bougainvillea fill pots and planters of every shape.
So, if you want to enhance your garden's beauty and support your climbing plants, then the best trellis for star jasmine would be great! If you put a little more beauty on it, nothing can beat some trellis full of star jasmine!
The big question is how to get the best trellis? No worries! We are here to help you find the best trellis you want. We listed the five best trellises available on the market. 
You can choose any of these trellis based on your garden's appearance, spaces, number of climbing plants, and mostly how you want to decorate.
Look out for the info points at the end followed by the question-answer sessions. Let's not wait anymore and get into the product review-
1. LeJoy Garden Tower Obelisk Garden Trellis
At A Glance
Size:

1 x 5.5 x 1-inch

Brand:

LeJoy Garden

Color:

Black/Green

Material:

Metal

Quantity: 1
Well, the best product on our list is "LeJoy Garden Tower Obelisk Garden Trellis". This one is rated as best on our list. This is also the most popular one among the gardeners!
Here, the height of 6.3 feet (75.6 inches) is ideal for a plant trellis. This Vertical Tomato Pyramid Obelisk provides a robust platform for floral vines, veggies, and other plants to ascend. The vertical trellising gives your landscape a stunning height boost.
With climbing vines, roses, and fruits, the vertical tower obelisk with a beautiful design offers the yard a fashionable and natural touch.
It's even decorated with garlands for Christmas decorations and fairy lights for such a wonderful nighttime setting. 
Moreover, this one fits nicely with any outdoor scene, from traditional to modern. Any lawn, patio, garden, or courtyard area can benefit from this charming focus piece.
Furthermore, the metal tube is used to construct this structure, coated in rain and wind epoxy. Added to that, this trellis is extremely stable and is a tall vertical system with four posts in the ground.
Besides this, every part contains holes that have been pre-cut & pre-drilled.  This garden trellis must be assembled from top to bottom. That could be an annoying thing. But, the good part is that it won't take much time to do so. 
Just ensure that you do not tighten screws until the unit is constructed to make future installs easier. That's all!
2. Collections Etc 6ft Garden Plant Trellis
At A Glance
Size:

15.75 x 15.75 x 75.6 inches

Brand:

Collections Etc

Color:

Green

Material:

Metal

Quantity: 1
Moving down the table, we have Collections Etc 6ft Garden Plant Trellis on our list. This the one of the most beautiful green finish trellis. We love this for its design! 
Here, the strong trellis provides plenty of area and support for your ascending plants and flowers. And the exquisite design looks attractive after the planting season is through.
It rises over 6-feet high and therefore is made of iron with a green finish. That's a lovely way to show off your blooming flowers & vines. Stakes solidly into the ground. 
The green color of the trellis will act as camouflage. It'll even get mixed with the outlook of the garden. Whatever the case is, this trellis looks great and does match up with the environment. 
You can easily hand the Star Jasmine with this trellis. It'll ensure that the Jasmine is taken up to a height and will provide all the support needed for it to stand strong on its ground. 
The interesting thing about this brand is that they'll provide a Happiness Guarantee for all of their items and services since customer satisfaction is their top concern.
This says a thing or two about this product as a whole. The brand has kept emphasis. This does add a sense of reliability when you're hanging your Star Jasmine on this trellis. 
3. Amagabeli 4 Pack Garden Trellis 
At A Glance
Size:

60 x 18 x 1.4 inches

Brand:

AMAGABELI GARDEN & HOME

Color:

Black

Material:

Metal

Quantity: 4
This is a premium trellis four-pack. It is from the brand- Amagabeli Garden. This one is  60″ high x 18″ wide. So, it's ideal to operate as a wall heavy iron garden trellis for vertical gardens.
It's a rust-resistant metal garden trellis. So, you might know how useful it'll be. 
You can use this trellis with the small flower tubes. Here, the framework works quite well with your planter boxes in patio corners. And, it's brought up garden bed edges to be metal trellis. 
For the unique perspective, this Amagabeli garden trellis is composed of sturdy steel and may be inserted into a planter or used as a stand-alone trellis. You may make a fence screen out of two or more to decorate your yard. Sweet peas, roses, and clematis are ideal for long-stemmed or climbing plants.
The design has a unique butterfly pattern and robust welding, making it suitable for climbing plants. So, it'll work with your Star Jasmine as well. It'll ensure that the Star Jasmine is supported and held higher. 
Also, the rustproof black coating is ideal for all weather conditions. You can keep it outdoors and indoors without an issue. It's quite simple to use as well!
The patio plant arch black trellis is made of solid wires but is a long-lasting and reliable architectural construction. 
Also, the small potted plants and various vertical gardens such as clematis, ivy, roses,  cucumbers, jasmine, blackberries, beans, vines, peas, morning glories, grapes,  long branched and potted veggies may be supported by this trellis. 
Honestly, it's an elegant outdoor trellis for clematis, climbing roses, vines. It works for the Star Jasmine quite well. And, we understand that's your main concern. So, no need to worry here, friend! 
4. Amagabeli Garden Trellis 47" x 16" Trellis
At A Glance
Size:

15 x 15 x 47 inches

Brand:

AMAGABELI GARDEN & HOME

Color:

Black

Material:

Steel

Quantity: 2
We have another Amagabeli Graden Trellis on our list. It's a package of two items, and the dimension of this trellis is 47″ high x 16″ wide. It's an ideal size for climbing plants, clematis rose, cucumber, etc.
Amagabeli garden trellis is composed of sturdy steel and may be inserted into a planter or used as a stand-alone trellis. You may make a fence screen out of two or more to decorate your yard.
And, you can use this with sweet peas, roses, and clematis are ideal for long-stemmed or climbing plants. Here, it works well with the Star Jasmine as well. 
On the other hand, solid welding creates a unique lattice pattern that is sturdy for vertical gardens. It has a unique design, after all. So, it's not the same as others and you'll need to match with the decor of your garden.
Here, the rust-resistant black finish is suitable for all weather conditions. Similar to the previous product, it'll work better in outdoor and indoor environments. So, you gotta utilize that. 
Besides, the scroll trellis has a rust-resistant black powder-coated finish, making it suitable for outdoor and interior usage too. 
The decorative garden trellis potted planter finial panels give height and diversity to your wonderful garden; the iron wiring grid garden trellis metal tall may be used to construct a screen with more of it. 
In the end, this is a great option if you're looking for a trellis. It'll take care of your Star Jasmine and will provide all the support needed. 
5. Achla Designs FT-21 Fleur-de-lis
At A Glance
Size:

12 x 12 x 84 inches

Brand:

Achla

Color:

Black

Material:

Iron

Quantity: 1
The final product on our list is "Achla Designs' Fleur-de-Lis". Here, the "Achla Designs' Fleur-de-Lis" garden trellises are versatile ways to add vertical interest to a border and garden area. 
Plus, they're more appealing than flat, floral Trellises or nets because of their distinctive form. The Fleur-de-Lis trellis features a basic design with four metal pegs extending from the top of the trellis to the ground. Its legs may be pushed apart to obtain the required footprint size, as well as the legs are designed for shipping flattened and be readily built. 
When the legs are compressed, the thin profile takes up a practically negligible location to hold at the end of the regular season.
In pots or flower gardens, use them to have any form of climbing plants, decorative or edible, such as snap peas, Mandeville, runner beans,  or Moonflower.
Any part of the house,  porch,  yard, patio, or garden may benefit from freestanding support.
Our light ironwork pieces are slender but sturdy, bringing strength and longevity to your plants for many seasons. There are two sizes available: 58-in H and 78-in".
Important Considerations While Choosing Trellis for Star Jasmine
Different trellis has different sizes and features. To get a unique look with supporting climbing trees, our suggestion would be to use different types and sizes of the trellis.
Select vine supports that are strong enough to sustain the vines you intend to grow. If you're planting a perennial vine, make sure the supports are constructed of waterproof materials (such as galvanized or powder-coated iron, painted or treated wood).

Consider if you want the supporting to be a decorative garden element in addition to the plant or whether the support's sole purpose is to showcase the plant. Decorative planting supports can offer a feeling of the enclosure by screening vistas and outlining boundaries. They can also act as intriguing focal points in the garden (arbors marking a gateway, an obelisk following the end of a trail) (fences, trellis panels, walls, pergolas).

Finally, consider the types of plants you wish to grow. Pole beans demand a different form of support than just a tomato and cucumber plant, and climbing rose needs another kind of help than a sweet pea.
Valuable and Attractive Options for Trellis for Jasmine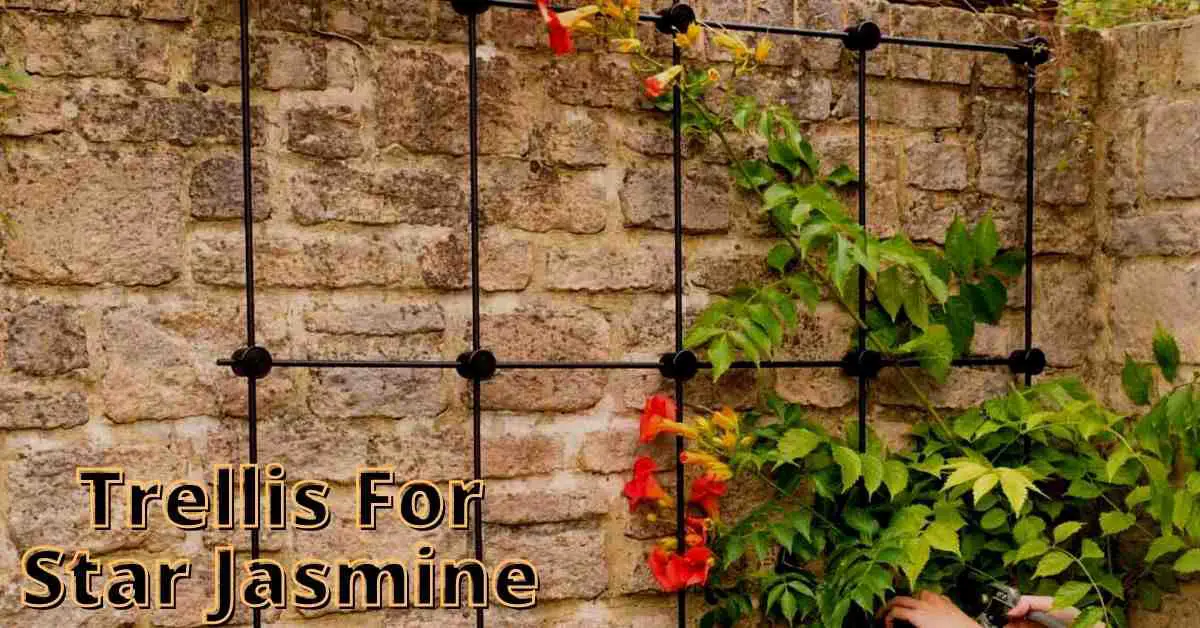 Below, we've provided our own idea about the valuables and attractive options. You might wanna check-
1. Arches
These arches may bring a unique touch to your garden regardless of the season. It is indeed crucial to consider the design and positioning.
Spend a bit of time in your yard deciding what design and scale building will go best with your home and surroundings. 
The most common material used for these constructions is wood, which may be coated or stained to protect them from the weather.
Metal and plastic variants are also available, so if the style fits your garden, they're a good alternative.
2. Trellises with Flat Tops
These are commonly used to divide a place or offer a sense of privacy. They may stand alone or be fixed to a building or poles.
Also, they sometimes are set in place, and they're also reasonably easy to switch around the garden to experiment with different effects. 
Furthermore, the manufacturing and assembly panels, different types of metal trellises, and nylon mesh trellises are examples of flat trellises.
3. Tripods, Obelisks, and Teepees are All Examples 
These structures give a solid upward aspect to the gardens that may operate as a focus point. They are both functional and ornamental. 
Also, they're most powerful when used sparingly, similar to exclamation marks. But, do check if the framework is tall enough to sustain the plant you wish to grow. 
For example, scarlet runners beans and robust morning glory kinds require a support 8 to 10 feet in height; they would rapidly overrun a 4-foot tripod. Bamboo canes form economical and lovely gardening teepees.
4. Cages and Ladders
Plant supports must be solid and built of lasting materials and tall enough to support the plant. Traditional cages, towers, teepees, and ladders are among the options.
Our innovative Vertex Lifetime Tomato Cage is offered for small (determinate) and tall-growing (indeterminate) tomato types.
5. Fences and Porches
Climbers for practically any style of fencing, including chain-link fences, are available for use on porches and fences. Growing roses hanging over a post-and-rail fence are a lovely sight. 
Sweet peas look fantastic against a picket fence when they're given a little support from strings and plastic netting. Put plastic trellis netting around porch railings & banisters.
6. Walls
Very few have lovely 10-foot-high old brick walls encircling our yards. Plants on a few of your house's borders, the division of an outbuilding, or the "wall" of a neighbor's fence may be an option. 
Plants may be trained against a barrier in a few different ways. Plants that cling to walls, such as Boston ivy, may do so without further help.
Almost all other plants will require a trellis installed on the wall or a wire and eye bolts system to support themselves.
7. Twiggy Branches
Twiggy branches are commonly known as "pea sticks" in the United Kingdom, as they are used to hold sweet peas.
Gather some 3 to 5 foot long branches and simply press them into the soil. It's best if there are a lot of little twigs. Shrub branches commonly outperform tree branches.
What is it about them that makes people so enamored with them? They're entirely costless. They're also easy to set up, practically undetectable when wrapped in vines, and compostable at the end of the year.
Why Do you Need to Trellis your Vegetables?
There are many advantages to growing vegetables upwards,  but these are the four main reasons for someone to utilize a trellis:
Save Space and Produce More 
It's real! Save area and produce more food! If you plant vining veggies on a trellis. Pole beans, for example, produce up to three times the crop of bush beans if planted in the same number of spaces, according to Cornell.
Reduce Diseases
and
Insect Attack
Vegetables such as indeterminate cucumbers, tomatoes,  and vining squash can be trellised to prevent insect damage and disease transmission. How?
Increasing air circulation all-around plants & keeping the leaves off the ground, where soil-borne illnesses may swiftly spread, soil-borne diseases are less likely to increase.
Easy Harvesting 
As I become older, I love trellised vegetables more and more – no more bending over to pick my beans and cucumbers!
Plus, while the plants grow vertically, it's much easier to see the pea pods, snap beans, and cucumber fruits.
Allowing them Grow Straight
Fruits that grow straight and are not spattered with dirt are produced when edible gourds, squash-like cucumbers, and Tromboncino are grown on a trellis.
Frequently Asked Questions
Question: How far away from the wall should the trellis be?
Answer: Most trellises are equipped with a foundation that allows them to stand 3 to 4 inches away from the wall. So because vine needs room to grow, they're generally not bolted to the wall.
If the wall is facing south or west, choose a plant that can withstand the light and heat, such as bougainvillea or a cat-claw.
Question: How would you hold a trellis that stands alone? 
Answer: A freestanding trellis' stabilizing supports must be placed at least a foot into the surface. You may also use pressure-treated timber to create your grounding stakes.
2×2 wood should be split into long lengths to push 1 foot into the ground while leaving the adequate above ground to anchor the trellis.
Question: What is the best way to reinforce a trellis?
Answer: Twist ties, twine, and other materials can be used to secure the trellis with two portions of rebar driven into the ground.
Alternatively, you may drill a wooden stake into the ground & nail or attach the trellis base to it, depending on how robust the trellis wood is.
Question: Is it necessary to get planning authorization for a trellis?
Answer: The first important point to address is whether or not trellis on a wall or fence need planning clearance.
Yes, you must apply for planning approval if the wall will be over 1 meter high just after extension if this is near to a highway used by cars or the highway's footpath.
Question: Is it possible to grow climbing plants in pots?
Answer: Most climbers could be cultivated in containers, although some are better adapted to them than others, while some can be cultivated in extremely large pots.
Clematis and Lonicera compact shapes are the most popular options for a reason, but there's plenty more.
Final Words
That's all, gardeners! Hopefully, we've clarified everything regarding the best trellis for star jasmine. 
Check through the information given in this guide for each product. It will provide you with a clear picture of what you're up for.
In terms of the review part, you'll be able to tell which product you'll enjoy. We've made a rough comparison between them all. So, if you're feeling lost, have a look at it.
Please leave a message below. We'd be delighted to connect with you!
Best of luck!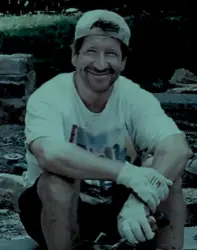 Latest posts by Justin Rhodes
(see all)